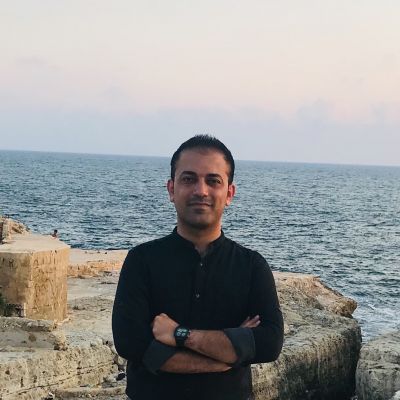 Education and Career
Education
PhD student in the Department of Geology, Faculty of Science, Palacky University Olomouc in the field of Hydrogeology.
2013–2014, University of Sheffield, England, UK. MSc Contaminant Hydrogeology.
2003–2007, University of Sulaimani, Sulaimani city, Kurdistan Region. BSc Geology.
Career
Education & International Relations Officer for Petroleum Engineering Program at Geology Department, Faculty of Science, Palacky University Olomouc, Czech Republic, 2021-Present.
Researcher at the Directorate of Groundwater in Sulaimaniyah focusing on Hydrogeology, Groundwater Contamination and Groundwater Resource Management, 2009-2019.
Head of Database Unit at the Directorate of Groundwater in Sulaimaniyah, 2016-2018.
Sub-National WASH Cluster Coordinator for Sulaimaniyah and Diyala Governorates in arche noVa (German International Humanitarian Organization), 2018-2019.
Founder of Geo-Hydro Explore Consultancy Bureau, focusing on Hydrogeology, Geology, Environment, Water Resource Management, Academic Subjects and etc. The consultancy has been offered in the mentioned field for Government and Private Sectors.
Member of Kurdistan Geology Society since 2007
Educational activities
Teaching activity and bachelor supervision with Petroleum Engineering students at Palacky University Olomouc, Czech Republic.
Lectures and seminars
Hydrogeology
Water well
Water well site determination
Participated in seminars and workshops related to water resource management and protection against contamination
Attended Geo-Kurdistan Conference 2, organized by the Geology Department at the University of Sulaimani and Kurdistan Geology Society 2017
Participated Workshop on Groundwater Sustainability organized by the General Directorate of Water Resource in Erbil, 2017
Participated in Groundwater Management and Sustainability organized by Sulaimani Groundwater Directorate and Geology Department at the University of Sulaimani, 2017
Professional interests
Hydrogeology
Groundwater contamination and modelling
Hydrogeochemistry
Water resource management
GIS
Training Courses
Participated in the Intensive Field Course on the Use of Geospatial Technologies in Hazard Research and Response organized by the University of Iceland, Seydisfjörður, Iceland, August 2022.
Participated in the 15th "International German Summer School on Hydrology (IGSH 2021) – Groundwater and Urbanization", Bochum, Germany, September 2015.
Participated in the WASH Operational Coordination Training course organized by the National WASH Cluster of Iraq and UNICEF in Erbil 2019.
Participated in a Project Management course in Beirut, Lebanon, in 2019
Participated in arche noVa Strategy workshop in Sulaimani, 2018.
Coaching Principles & Skills, Organizational Development & Sustainability, Strategic Planning & Project Design, Fund Rising & Performance Evaluation workshop organized by Mercy Corps in Sulaimani, 2018
International Humanitarian Law, by Geneva Call in Erbil, 2017.
Introduction to Monitoring and Evaluation by International Rescue Committee online, 2017
Humanitarian Needs Assessment e-learning course by Harvard Humanitarian Initiative's Kobo Toolbox Program in collaboration with the United Nations Office for the Coordination of Humanitarian Affairs,
July 2017.
Leadership and Capacity Building Workshop at Civil Development Organization – CDO, 2017.
Online Exploring English course (Language and Culture) by British Council,2017.
Online English course by British Council, 2016.
Academic English course at English Language Teaching Centre (ELTC), University of Sheffield, UK, 2013.
General English course at American University of Iraq-Sulaimani, 2012.
TOEFL English course at American University of Iraq-Sulaimani, 2012.
Participated in Data Analysis and Project Management course organized by SGI Italian International Company in Italy, 2010.
Publications
Mahmmud R., 2015. Rainfall Event Analysis for Urban Flooding Study Using Radar Rainfall Data (published M.Sc. Thesis). Journal of Zankoy Sulaimani, A (JZS-A), 17 (3).
Mahmmud, R., Sracek, O., Mustafa, O. et al. Groundwater geochemistry evolution and geogenic contaminants in the Sulaimani-Warmawa Sub-basin, Sulaimani, Kurdistan Region, Iraq. Environ Monit Assess 194, 352 (2022). https://doi.org/10.1007/s10661-022-09933-6
Mansurbeg, Howri, Ibrahim Mohialdeen, Ali Al-Juboury, Namam Salih, Mohammad Alsuwaidi, Salahadin Shahrokhi, Ihsan Al-Aasm, Rebar Mahmmud, and Albert Permanyer. 2023. "Meteoric Water Incursion, Crude Oil Degradation and Calcite Cementation of an Upper Cretaceous Reservoir in the Zagros Foreland Basin (Kurdistan Region of Iraq)" Water 15, no. 10: 1953. https://doi.org/10.3390/w15101953
Mustafa, Omed, Rebar Mahmmud, Ondra Sracek, and Shwan Seeyan. 2023. "Geogenic Sources of Arsenic and Fluoride in Groundwater: Examples from the Zagros Basin, the Kurdistan Region of Iraq" Water 15, no. 11: 1981. https://doi.org/10.3390/w15111981